Grooming, RV, Vendor Space
Booking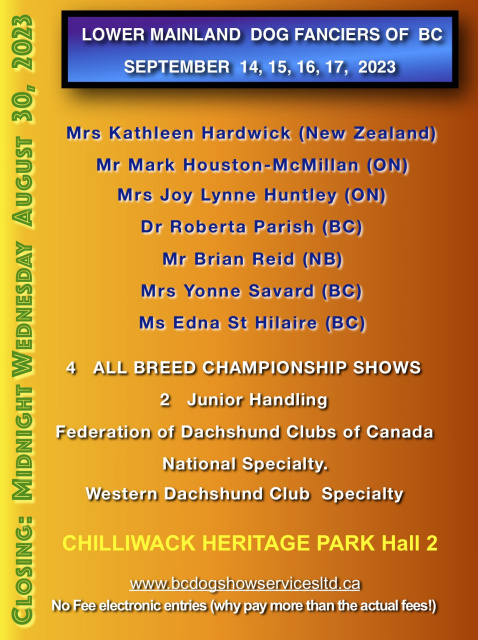 Premium List and On Line Entries
September 14 Thursday to September 17 Sunday 2023
Top half of page Reserved Grooming.
Top half of page: Vendor Space
Middle of Page: Purchase Options
Bottom of Page: Camping Options.
Grooming Notes:
2 OPTIONS:
A) Ringside Set-up in marked space no earlier than 15 minutes prior to your breed judging and must vacate within 10 minutes of breed completion. There is no fee. Crates Only, no chairs.Equipment and dogs may only enter from the South end of Hall 2.

B) Day Grooming (over 1700 sq ft) at North end of Hall 2. Welcome to bring your crate, table, chair and set up for the day only. There is no power available. There is no fee. All items remaining in the space after BIS will be considered abandoned and treated accordingly. Equipment and dogs may only enter from the South end of Hall 2.

C) Reserved Grooming Space Shared Power. Booking available by scrolling lower. Limited amount available. View the space layout on the map and proceed lower to book your site. Note: Dogs may be left overnight with contact information and a leash attached to crate.
Note: Dedicated Power is not available due to the very high cost required by the service contractor.
Purchase Notes:
1. Select the item for purchase. This puts the item in your cart.
2. You can either Continue shopping to put more items in your cart if you wish; or proceed to Checkout.
3. At check out complete the required Paypal information or if you are not a Paypal member you can Continue as Guest (option near bottom) and proceed and pay without an account.
4. If you do not utilize the final step and pay for the items in your cart, we will make the item for sale within 2 hours. Contact show Secretary if you wish to pay by e-transfer.
If the item you are looking for is not displayed it is indicating it is not available.
GST is added at check out.
Vendor Spaces Notes:
The spaces are labelled on the map. They are purple and have the prefix Vendor. From Spaces V1-V6 your booth must be completely within Hall 2. The spots are 10 x 10' unless otherwise indicated. Taxes and tables (8' I believe) are provided and included. Vendor entry is on Wednesday. Time to be announced.
RV Spaces Notes:
The areas are labelled on the map below are the three areas for RV Bookings. They are neon blue. The first area is on your left when you enter the venue property. It holds 24 spaces. 12 on each side of the divider. They are 35 amp power available via cables run along the divider. This is labelled as North RV. Each camper should take no more than 16' wide (double the width of the vehicle). There is no dry camping in this area.
To the East of the Sand Rings are 8 RV spots. It is labelled East RV. The power is fixed on a pole and is 50 amp. These spots are spaced. There is no dry camping in this area.
To the North West of Hall 1 labelled on the map in Neon blue is the area for Dry camping. Please park against curbs or fencing and be respectful of fire lanes. There is no Power available here. For Dry camping only select a link above. Each link is for one night. You can add in the text field which night you are arriving. Adjust the quantity field of your selection for how many nights. Each site may only have one vehicle or camping unit.

There is no Water or Sewer in any spots. Sewer dump station is near the entrance to the site.
Bookings are from Wednesday afternoon to Sunday Afternoon. 4 nights.
For those sites requiring offering power there are only 4 night bookings.
Arrivals are after 2:00 pm on Wednesday.
No generators or social gatherings after 10:00 pm.
There are no refunds.
Building and washrooms close at 2100 each night. Building opens at 0600 each day.