COVID19 issues are changing rapidly.
L.M.D.F. is adopting a wait and see protocol.
When classes resume we will request that people pre-register on paypal below
and if we reach of threshold of 8 people we will contact each registrant and hold class.
Please review this page for updates when classes might resume.
It will occur after the Provincial Medical Officer relaxes her recommendations.
L.M.D.F. also wishes to thank Cotonfield Dog Centre (Diane and Jacob)
f
or their support, patience and flexibility during these times.
LMDF Handling Classes have moved to Wednesdays
and Cotonfield in Aldergrove
Lower Mainland Dog Fanciers of BC Handling Class
7:00 pm. drop in
Conformation Instructors: Mrs Teresa Whitehead, Mr Wayne Davidson
Ms Edna St Hilaire is on hiatus for the next while.
Handling Classes are now on Wednesdays
at
Cotonfield Dog Centre Arena
27882 Quinton Ave, Abbotsford, BC V4W 1J7
Training classes resume in January 2020, plan for your Wednesday evenings....
January 8, 15, 22, 29
February 5, 12, 19, 26
April 1, 8, 15, 22, 29
May 6, 13, 20, 27
June 3, 10, 17, 24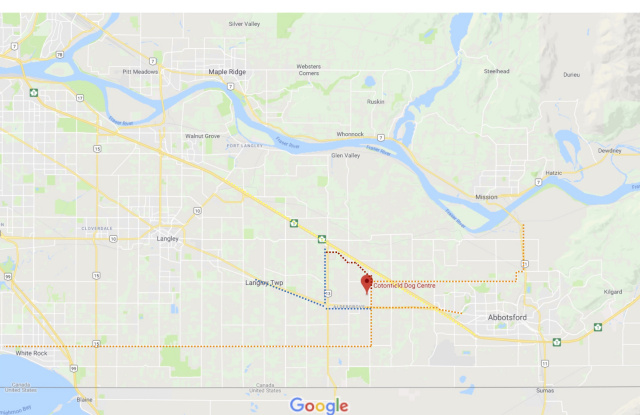 Park in the front on either side.
The only dog exercise area is in the corral on the west side.
Please dispose of dog waste in the container provided.
Please respect the neighbours: no barking/whining dogs to be left in the car and
no exercising your dog off the property. No loose dogs on property except in the Obedience ring.
Dress in layers, it is not heated.
T
he flooring is excellent for training.
A portable toilet is available.
Please bring your own chair, a few are provided. FCFS.
If there is a cancellation for any reason it will be posted on this website.
This includes for dangerous weather conditions or power outage in Aldergrove.
There is often traffic on Hwy 1 just east of 200th.
There are alternate routes on the map for consideration.
THE LOCATION HAS MANY OPTIONS FOR APPROACH. SOME ON INDICATED ON THE MAPS.
You can drop in and pay cash at the door or you can reserve a space by using paypal below.