Why just handle your dog when you can create a Show Dog that owns the ring!!!
Socialize, Train, Proof, Finishing Touches...
HAPPY NEW YEAR!! Handling classes will resume in 2021 in accordance with restrictions on gatherings announced by the B.C. Government. We will post when they resume.
Handlers will be asked to book on our website in advance or advise us on the club email whether they plan to attend or not.
We will be practising social distancing as much as possible. Instructors will wear masks and gloves and we ask that all persons (handlers included) wear masks as well. People are expected to maintain distance as much as possible, however we also know the instructor will examine the dogs as per usual. If handlers have a "clingy" dog we ask they practise a lot before attending with strong verbal communication with the dog to maximize the distance between themselves and the instructor.
It will be our first time back since mid-March and we are unsure of the response.

We want to know how many people are expected so as to not impede social distancing. For this reason, there will be no surprise drop ins, until we can better gauge the number of people we can accommodate. Please book on paypal or email whether you plan to attend or not.

We are estimating that each instructor could safely conduct 8 dogs per ring, with the obedience working area (no instructor) managing 3 dogs.
We review for changes. Any changes will be posted on this website.
L.M.D.F. also wishes to thank Cotonfield Dog Centre (Diane and Jacob)
for their support, patience and flexibility during these times.
LMDF Handling Classes have moved to Wednesdays
and Cotonfield in Aldergrove
Lower Mainland Dog Fanciers of BC Handling Class
7:00 pm. drop in
Conformation Instructors: Mrs Teresa Whitehead, Mr Wayne Davidson
Ms Edna St Hilaire is on hiatus for the next while.
Handling Classes are Wednesdays
at
Cotonfield Dog Centre Arena
27882 Quinton Ave, Abbotsford, BC V4W 1J7
January 8, 15, 22, 29
February 5, 12, 19, 26
June 3, 10, 17, 24
July 1, 8, 15, 22, 29
August 5, 12, 19, 26
September 2, 9, 16, 23, 30
October 7, 14, 21, 28
November 4.
Remainder of classes cancelled due to covid19 "gathering" restrictions.
We will see you in 2021
Please book on paypal above or email us if you planning on attending.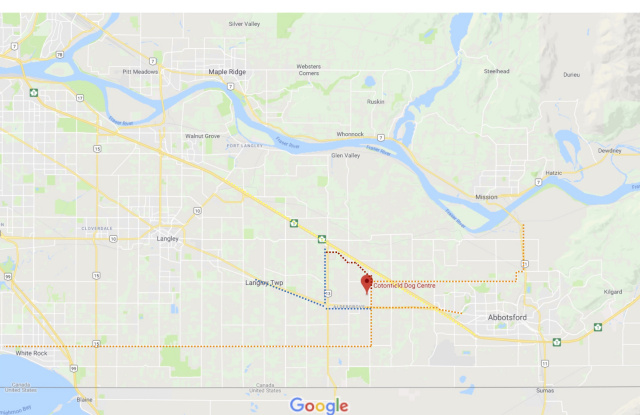 Park in the front on either side.
The only dog exercise area is in the corral on the west side.
Please dispose of dog waste in the container provided.
Please respect the neighbours: no barking/whining dogs to be left in the car and
no exercising your dog off the property. No loose dogs on property except in the Obedience ring.
Dress in layers, it is not heated.
T
he flooring is excellent for training.
A portable toilet is available.
Please bring your own chair, a few are provided. FCFS.
If there is a cancellation for any reason it will be posted on this website.
This includes for dangerous weather conditions or power outage in Aldergrove.
There is often traffic on Hwy 1 just east of 200th.
There are alternate routes on the map for consideration.
THE LOCATION HAS MANY OPTIONS FOR APPROACH. SOME ON INDICATED ON THE MAPS.
You can drop in and pay cash at the door or you can reserve a space by using paypal below.